Non Fiction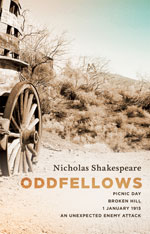 Oddfellows
On 1 January 1915, ramifications from the First World War, raging half a world away, were felt in Broken Hill, Australia, when in a guerrilla-style military operation, four citizens were killed and seven wounded.It was the annual picnic day in Broken Hill and a thousand citizens were dressed for fun when the only enemy attack to occur on Australian soil during World War I, took them by surprise. Nicholas Shakespeare has turned this little known piece of Australian history into a story for our time.
Reviews
Riveting… this perfectly articulated story from the byways of the Great War is not about mighty cataclysms, balances of power gone wrong and men dying in trenches. It is a set of accidents in a context capable of becoming fraught in a country town in Australia. English novelist Ford Madox Ford said the death of a mouse by cancer is the sacking of Rome by the Goths. This very sad story, steady, stoical and unrhetorical in the way Nicholas Shakespeare tells it, restores to a human scale what wanton death, suicidal defiance in the name of Allah, explicable grievances and absurd tragedy look like with real human faces. I do not expect to read a more formidable piece of short fiction this year.
---
The first great novel of the year, Nicholas Shakespeare's Oddfellows is a sublimely sparse and economically elegant powder keg of a story, detonated by an historical event that resonates explosively a hundred years since… Shakespeare's shape of the story is sheer craftsmanship and the precision of his prose is a shimmering peak of imagination and imagery.
---
This slim novella is much more than an historical account. Every character is so beautifully drawn and sketched out, it has the feel of a major novel… Shakespeare's beautiful, lucid prose makes it a joy to read. I can't recommend it highly enough. In fact, I reckon, I reckon, I reckon it's a minor masterpiece.
---
Shakespeare captures this historical moment beautifully and in elegant prose creates a complex inner life for Rosalind, who is a wonderfully drawn character… It's a fascinating story, and skilfully told. It is also timely. Not just because it is the centenary of the battle this month, but because the story Shakespeare tells resonates so deeply with current tensions. It is weightier than its length might suggest."
---
Bruce Chatwin 1999 (Shortlisted Whitbread Book of the Year).
Bruce Chatwin's death from AIDS in 1989 brought a meteoric career to an abrupt end, since he burst onto the literary scene in 1977 with his first book, In Patagonia. Chatwin himself was different things to different people: a journalist, a photographer, an art collector, a restless traveller and a best-selling author; he was also a married man, an active homosexual, a socialite who loved to mix with the rich and famous, and a single-minded loner who explored the limits of extreme solitude. From unrestricted access to Chatwin's private notebooks, diaries and letters, Nicholas Shakespeare has compiled the definitive biography of one of the most charismatic and elusive literary figures of our time.
Reviews
Unimprovable (and unstoppably readable)
---
Quite simply, one of the most beautifully written, painstakingly researched, and cleverly constructed biographies written this decade. Shakespeare has a quite extraordinary empathy for his subject, whom he portrays with humor, warmth, and an eye for telling detail, creating a book almost as original, intelligent, and observant as those by Chatwin himself.
---
In Nicholas Shakespeare, Chatwin has found the right biographer. This is a magnificent work of empathy and detection
---
I take my scalp off to Nicholas Shakespeare. Biographies don't come any better than this… A glorious quilt-work of texts, voices and places, joined together with consummate judgement
---
Moving and elegant… A superb portrayal of the restless and randy travel writer brings us as close to his hidden heart as we're likely to get
---
Shakespeare's engrossing bio does exactly what Chatwin's fans have longed to do: get beneath the alluring but elusive quality of his persona and prose. Grade: A'
---
Immensely readable… Shakespeare portrays a man of colossal energies and intellect in perpetual conflict, whose life was a web of contradiction, controversy, and conundrum…. Shakespeare artfully synthesizes what could have been cacophonous voices into an impressively rendered and remarkably coherent portrait
---
Though it runs to 550 pages, Nicholas Shakespeare's biography feels concise: comprehensively researched, elegantly written, perfectly balanced between the life, the books and the ideas. It's hard to imagine the Life being better done – or that…there is anything now left to say
---
An epic piece of work of immense fascination. In awe-inspiring detail… he does what Chatwin never did and drenches all these worlds in their emotional, human implications
---
This excellent biography is very far removed from Chatwin's own anecdotal concision. However, it is fantastically difficult to fashion a narrative out of the inchoate facts of someone's life. Shakespeare has managed to pull it off
---
---
Thoroughly researched and unsparingly revealing … a graphic page-turner
---
Masterful, absorbing…simply a brilliant portrait of the artist as a young man
---
An ingenious, outsize myth-meets-facts "life and works" of the charismatic global citizen and compulsive tale-teller…This spirited tell-all will make newcomers yearn to try his books. An unflinching reconstruction of a singular writer's scorching trajectory through life: Speed makes it concise; fate makes it haunting
---
In Tasmania, 2004 (Tasmania Book Prize, 2006).
In this fascinating history of two turbulent centuries in an apparently idyllic place, Shakespeare effortlessly weaves the history of this unique island with a kaleidoscope of stories featuring a cast of unlikely characters from Errol Flynn to the King of Iceland, a village full of Chatwins and, inevitably, a family of Shakespeares. But what makes this more than a personal quest is Shakespeare's discovery that, despite the nineteen century purges, the Tasmanian Aborigines were not, as previously believed, entirely wiped out.
Reviews
---
---
---
---
---
---
---
---
The kind of book I like best
---
Under the Sun: the letters of Bruce Chatwin, 2010
Bruce Chatwin is one of the most significant British novelists and travel writers of our time. His books have become modern-day classics which defy categorisation, inspired by and reflecting his incredible journeys. Tragically, Chatwin's compelling narrative voice was cut off just as he had found it. "Bruce had just begun," said his friend, Salman Rushdie, "we saw only the first act." But Chatwin left behind a wealth of letters and postcards that he wrote, from his first week at school until shortly before his death at the age of forty-eight. Whether typed on Sotheby's notepaper or hastily scribbled, Chatwin's correspondence reveals more about himself than he was prepared to expose in his books; his health and finances, his literary ambitions and tastes, his uneasiness about his sexual orientation; above all, his lifelong quest for where to live. Comprising material collected over two decades from hundreds of contacts across five continents, Chatwin's letters are a valuable and illuminating record of one of the greatest and most enigmatic writers of the twentieth century.
Reviews
Wonderful… the closest we are ever going to get to a Chatwin autobiography
---
These letters burst with affectionate salutations, explosions of rage, sudden enthusiasms
---
This compilation of correspondence is aptly titled. British travel writer and novelist Chatwin traveled widely, constantly, and obsessively—everywhere under the sun, in other words…. Chatwin's many appreciators will see the compilation in its overall significance as a personal visit with one of their literary heroes, as much as that is possible now
---
This collection should be cherished not least because it is Chatwin's last
---
The editors brief and beautifully pointed comments in the footnotes provide some of the most enjoyable moments in this book
---
A masterpiece of sympathetic and diligent editing, absolutely fascinating and larded with acerbic comments from Shakespeare's joint editor, Elizabeth Chatwin
---
Every drop of Chatwin is worth it. The same exquisite observations found in his novels and the penetrating ideas found in his essays infuse even his most casual letters
---
Priscilla, The Hidden Life of An Englishwoman in Wartime France, 2013.
Priscilla was the author's mysterious aunt, who lived on a mushroom farm in East Wittering, overlooking the Isle of Wight. The eldest daughter of the author and broadcaster S.P.B. Mais, she had spent the war in Occupied France, married to an impotent Vicomte. For four years, Priscilla listened on pain of death to her father on the BBC. All through this time, her father never knew if his daughter was alive or dead; but nor did he ever learn what she had to do in order to survive – and how, as an enemy alien, she was forced to make choices that none of her family or friends in England ever had to face.
Reviews
A most strange and compelling book driven by the writer's unsparing search for truth: now an optimistic hunt for a family heroine, now a study in female wiles of survival, now a portrait of one very ordinary person's frailty in the face of terrible odds
---
This mysterious story of the Occupation in France has all the qualities of a fascinating novel, with exquisite social, sexual and moral nuance
---
Nicholas Shakespeare has employed all his superb gifts as a writer to tell the picaresque tale of his aunt in wartime occupied France. Priscilla is a femme fatale worthy of fiction, and the author traces her tangled, troubled, romantic and often tragically unromantic experiences through one of the most dreadful periods of 20th century history
---
Priscilla's descent into hell runs eerily parallel to that of France itself; Faustian, fascinating and in the end extremely sad
---
A gripping excavation of a woman's secret past, Priscilla is also a fascinating portrait of France during the second world war, and of the many shadowy and corrupt deals made by the French with their Nazi occupiers
---
In Priscilla, Nicholas Shakespeare captures the soul of a young Englishwoman who, to survive in Nazi-occupied France, is forced to make choices which few in England ever had to face. She remained her own unflinching judge and jury to the end
---
The novelist and biographer relates the extraordinary wartime derring-doings of his glamorous aunt, whose hidden past he discovered when he stumbled across a box of her papers. Glamorous and morally ambiguous, she married a French aristocrat, escaped from a PoW camp and at the liberation of Paris, was having a relationship with a mysterious man called "Otto". Woven into her life story is a wealth of detail about life in Occupied France. Obvious appeal for fans of Agent Zigzag, Antony Beevor and Sebastian Faulks but also Suite Française. I was enthralled by it
---
At first you might think Nicholas Shakespeare's Priscilla is going to be one of those WWII female spy books we have seen so much of. But this is much darker and more complicated, delving into the murky past of the author's aunt, who (he discovers) came close to being a collaborator at the same time as being a victim of the uncertainties of war, as so many women were. Another fine book, full of hurried journeys and secret liaisons, by one of Britain's best writers